By Opus Asset Management Sdn Bhd
Federal Reserve raises by 75 basis points (bps), Fed Funds Rate now at 3.0% – 3.25%. The US Federal Reserve (Fed) move to hike the Fed Funds Rate (FFR) by 75bps to a target range of 3.0%-3.25%, which was unanimous and in line with the market consensus. We note that the Fed remains data-dependent and is committed to evaluating rate hikes "meeting by meeting". Looking ahead, the updated Fed Dot Plot indicates a median of another 125bps of hikes to be spread over two remaining meetings by end-2022, although FOMC opinion was split almost evenly between 100bps (9 votes) and 125 bps (10 votes).
Updated Fed dot plot illustrates higher rates for longer, with hikes frontloaded by end-2022 and ending in 2023. Key takeaways from the new dot plot are: the higher FFR by year-end at 4.25% – 4.5%, which is 100 bps higher than predicted by the Federal Open Market Committee (FOMC) in the June meeting (end-2022: 3.25%- 3.5%). There is meagre comfort in 2023 with 1 more 25bps hike expected, bringing up the FFR to a terminal rate of 4.5% – 4.75%. However, with inflation being stubborn, the Fed expects the FFR to still remain elevated at 3.75% – 4.0% by end-2024 and at 2.75% – 3% by end-2025 as seen in Figure 1.
Figure 1: September Fed Dot Plot shows higher for longer Fed Fund rates.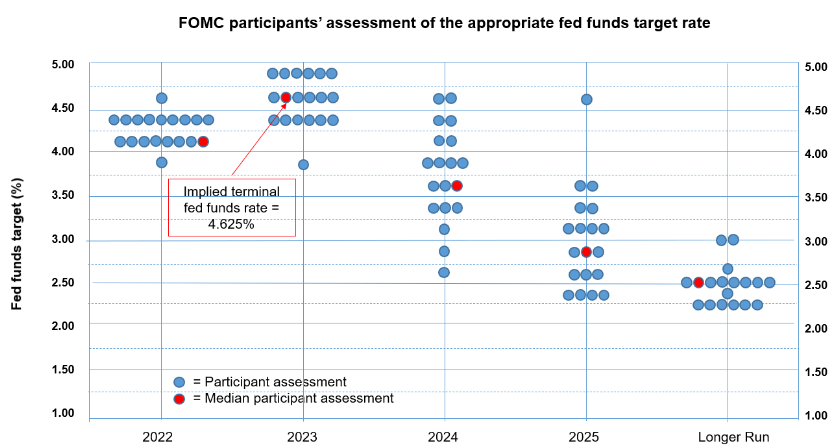 Source: US Federal Reserve, RSM
Fed economic projections more downcast; FOMC sees weaker US economic growth and higher unemployment. Real Gross Domestic Product (GDP) growth was revised downwards to almost stagnant for 2022 in September's meeting (GDP: +0.2%) compared to a slight growth in June's meeting (GDP: +1.7%), while unemployment was forecast to be higher before stabilizing at the 4.4% level up till end-2024. In our view, this is consistent with Fed messaging of a "painful" rate hike path as well as US retail sales numbers which have been weakening since the beginning of 2022 (Jan'22: +2.7% MoM; Aug'22: +0.3% MoM).
A rising tide lifts all boats; Malaysian yields were generally higher pre and post-Fed rate hike. Notwithstanding the 75bps Fed rate hikes, we still see Bank Negara Malaysia (BNM)  positioning itself to hike the Overnight Policy Rate (OPR) by 25 bps for the final Monetary Policy Committee (MPC) meeting in 2022. However, we note that Malaysian MGS yields were higher by approximately 5 – 10 bps as markets digested the Fed decision, although the Malaysian bond market reaction was not as volatile as the US markets. Indeed, the rising risks of a recession in developed markets and a possible spike in geopolitical tension could lead to a cap on bond yields from the Malaysian perspective.
Disclaimer
The information, analysis and opinions expressed herein are for general information only and are not intended to provide specific advice or recommendations for any individual entity. Individual investors should contact their own licensed financial professional advisor to determine the most appropriate investment options. This material contains the opinions of the manager, based on assumptions or market conditions and such opinions are subject to change without notice. This material has been distributed for informational purposes only and should not be considered as investment advice or a recommendation of any particular security, strategy or investment product. Information provided herein may include data or opinion that has been obtained from, or is based on, sources believed to be reliable, but is not guaranteed as to the accuracy or completeness of the information. No part of this material may be reproduced in any form, or referred to in any other publication, without express written permission. Opus Asset Management Sdn Bhd and its employees accept no liability whatsoever with respect to the use of this material or its contents.