By Opus Asset Management Sdn Bhd
Consumer Price Index (CPI) rose to +3.4% YoY for June. Malaysia's CPI reading for June of +3.4% YoY (May: +2.8% YoY) significantly exceeded consensus of +3.2% YoY. We expect the CPI to continue to trend upwards in the next few months. However, with anaemic inflation readings earlier in 1H22 (1H22 CPI average: 2.5%), we expect Malaysia's CPI for 2022 to be closer to 3.2% which is the upper range of Bank Negara Malaysia's (BNM) targeted inflation range.
CPI rise increasingly broad-based, driven more by food and less by fuel. Based on the convergence of lines in Figure 1, the rise in CPI has shifted away from mostly fuel prices to a more broad-based increase especially in the food category which rose +6.1% YoY. More specifically, meat prices rose the fastest as the elevated commodity price environment in 1H22 has caused animal feed to become increasingly expensive. However, a cooling of input prices (evidenced by the recent drop in Crude Palm Oil prices) and the Ukraine-Russia grain export deal could cap further price gains.
Figure 1: Malaysia's rising CPI increasingly due to factors other than fuel.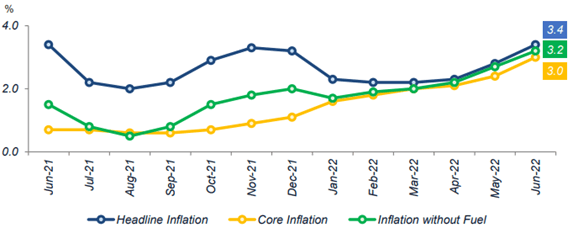 Source: Department of Statistics Malaysia
Malaysian Overnight Policy Rate (OPR) seen to rise another 25-50bps from current 2.25% level. With rising inflation and Malaysia's relatively strong economic growth for 2022 (1Q22 GDP: +5.0% YoY), we expect BNM to hike another 25 – 50 bps, bringing the OPR to 2.50% – 2.75% by end-2022. BNM has reiterated that it will gradually normalise rates and we see opportunities for BNM to do more rate hikes this year while growth remains strong.
Malaysian bond market already priced in more rate hikes. Despite lower inflation compared to the developed countries, the Malaysian bond market has priced in more than 4 rate hikes, with the 3-Year MGS currently at 3.50%. As such, we do not expect the bond market to react negatively. As interest rate rise, this has the potential of slowing down growth and the bond market may see yields start to shift downwards.
Disclaimer
The information, analysis and opinions expressed herein are for general information only and are not intended to provide specific advice or recommendations for any individual entity. Individual investors should contact their own licensed financial professional advisor to determine the most appropriate investment options. This material contains the opinions of the manager, based on assumptions or market conditions and such opinions are subject to change without notice. This material has been distributed for informational purposes only and should not be considered as investment advice or a recommendation of any particular security, strategy or investment product. Information provided herein may include data or opinion that has been obtained from, or is based on, sources believed to be reliable, but is not guaranteed as to the accuracy or completeness of the information. No part of this material may be reproduced in any form, or referred to in any other publication, without express written permission. Opus Asset Management Sdn Bhd and its employees accept no liability whatsoever with respect to the use of this material or its contents.