Malaysia's 1Q23 Gross Domestic Product (GDP) rose +5.6% YoY, above median consensus of +4.8% YoY growth. Malaysian GDP growth surprised to the upside as of 1Q23, growing at +5.6% YoY compared to the Reuters survey which called for a median of +4.8% YoY. Consequently, Malaysia still remains among the fastest GDP growers in Asia in 1Q23 (Indonesia: +5.0% YoY; Vietnam: +3.3% YoY; Philippines: +6.4% YoY) although we expect that Malaysia's GDP growth will normalize towards the 4-5% range for the rest of 2023.
Domestic private consumption key to sustaining GDP growth as trade is slowing down due to the fragile external environment. Private consumption expenditures (contributing ~61% of Malaysian GDP) was the key growth driver in 1Q23, rising by +5.9% YoY (4Q22: +7.4% YoY). Malaysian consumers continued to spend across a broad variety of categories such as for food and beverages, restaurants and hotels etc. However, the tailwind behind Malaysian consumers from elevated pandemic savings (Figure 1) and frequent handouts (Employee Provident Fund withdrawals) is fading, which could be a key factor behind the normalization of Malaysia's GDP growth.
Figure 1: Malaysian household savings have declined from pandemic peak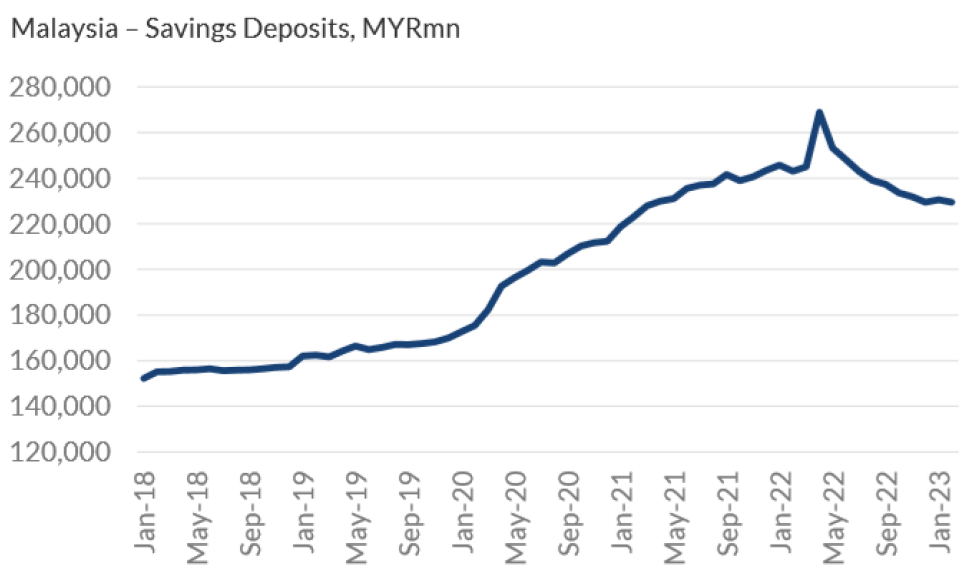 Source: Fitch
Local labour market remains stable, with broad-based improvement across different sectors. Malaysia's unemployment was still stable at 3.5% as of March 2023, although it remains higher than pre-pandemic (February 2020: 3.3%). Notably, the services sector saw a continued increase in employment, with growth recorded across the wholesale & retail trade, food & beverage services, and administrative & support service activities subsectors.
Opus's opinion:
2023 GDP growth to normalize as low base effect fades, in addition to weakening external environment. To reiterate, Malaysia's economic growth is widely expected to normalise to a range of +4.0% – 5.0% YoY for the whole of 2023. Factors signaling the normalization of Malaysian growth include declines in export numbers from the deteriorating external environment, as well as Malaysian Purchasers Managers Index (PMI) figures for the manufacturing sector which are stubbornly below the threshold of 50 (thus indicating contraction).
OPR to stay at 3.00% for the remainder of 2023. In view of the deteriorating external environment, Malaysian GDP growth this year will have to rely on domestic consumption. As such, we expect OPR to stay at 3.00% for the rest of 2023, which is still slightly accommodative to support domestic consumption, and in turn GDP growth.
Disclaimer
The information, analysis and opinions expressed herein are for general information only and are not intended to provide specific advice or recommendations for any individual entity. Individual investors should contact their own licensed financial professional advisor to determine the most appropriate investment options. This material contains the opinions of the manager, based on assumptions or market conditions and such opinions are subject to change without notice. This material has been distributed for informational purposes only and should not be considered as investment advice or a recommendation of any particular security, strategy or investment product. Information provided herein may include data or opinion that has been obtained from, or is based on, sources believed to be reliable, but is not guaranteed as to the accuracy or completeness of the information. No part of this material may be reproduced in any form, or referred to in any other publication, without express written permission. Opus Asset Management Sdn Bhd and its employees accept no liability whatsoever with respect to the use of this material or its contents.