By Opus Asset Management Sdn Bhd
Minimum wage to be raised by 25% from RM1200 to RM1500 on May 1. We note that there has been pushback from certain labour organisations with complaints such as the quantum of increase being too high and the date of implementation being too soon (May 1). Thus, details may change pending the results of the engagement session between the Human Resources Ministry and the said labour organisations sometime in April.
Minimal upside to further raises as new minimum wage is in line with most ASEAN peers and international guidelines. One measure to evaluate Malaysia's new minimum wage is to compare our minimum-to-median wage ratio (Kaitz Index) against international peers. Based on the Malaysian pre-pandemic (2019) median wage of RM2,442, Malaysia's minimum-to-median wage ratio is 61%. This is in line with the International Labour Organisation (ILO)'s guideline and developing nation average of 67%. Comparing to ASEAN peers, Malaysia's minimum-to-median wage ratio is similar to the Philippines (~67%), Myanmar (~67%), Thailand (~60%) and significantly above Vietnam (~30%). Therefore, should the new minimum wage be implemented, the level would be considered adequate.
Labour-intensive sectors to be hit hardest. Manufacturing (24.8% of GDP share) and agriculture (6.7% of GDP share) sectors which rely greatly on manpower will be most affected by the higher labour costs. However, we view the elevated labour costs as short-term pain for the long-term gain of increased productivity. According to International Labour Organisation (ILO) statistics, Malaysia's real minimum wage growth (1.3% annualized) has lagged productivity growth (3.5% annualized) in the period of 2010 – 2019.
Mild inflation upside from minimum wage raise. Based on the following Figure 1, we detect upticks in the Consumer Price Index (CPI) for the 6 months after the minimum wage was raised which suggests that inflation may increase after the 1st May wage raise. However, we opine that the total impact is moderated as the main beneficiaries of the minimum wage raise (the B40 segment) will likely spend on daily essentials that are usually price-controlled items.
Figure 1: Consumer Price Index (CPI) readings generally rose following increases in the Malaysian minimum wage.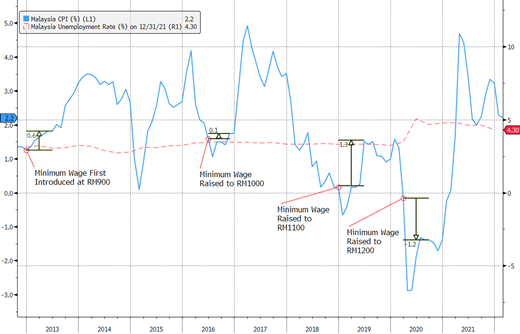 Source: Bloomberg
Growth prospects higher from stronger domestic demand. Malaysia's Gross Domestic Product (GDP) growth will benefit from higher consumption as wages rise. Furthermore, the Marginal Propensity to Consume (which measures how much each unit of extra income is used for consumption instead of being saved) for households earning less than RM1,000 is at ~0.8 according to a Bank Negara Malaysia (BNM) study, compared to only 0.25 for households earning above RM10,000. Thus, the increase in minimum wages for the lower income segment of society will have a material impact since a smaller proportion of the wages will be kept dormant in savings accounts.
Impact on bond markets to be muted, contingent on inflation expectations post–wage raise. Our view is the wage raise will have a significant impact on bond yields only if inflation expectations rise. To this end, the ongoing review on fuel subsidy and the implementation of festive price control schemes are crucial. Without the presence of price subsidies, raising the minimum wage may cause inflation to rise, although this has been partially accounted for with the higher BNM headline inflation target of 2.2% – 3.2% for 2022. We also note the slack in the economy from the labour market (4.3% unemployment) and below-average GDP growth rate, which should shield Malaysian bond markets from any significant yield impact arising from the increase in minimum wage. Our house view remains 1 rate hike of 25 bps for the Malaysian Overnight Policy Rate (OPR) in 2H22 as we remain cognizant of Malaysia's delicate economic recovery.
Disclaimer
The information, analysis and opinions expressed herein are for general information only and are not intended to provide specific advice or recommendations for any individual entity. Individual investors should contact their own licensed financial professional advisor to determine the most appropriate investment options. This material contains the opinions of the manager, based on assumptions or market conditions and such opinions are subject to change without notice. This material has been distributed for informational purposes only and should not be considered as investment advice or a recommendation of any particular security, strategy or investment product. Information provided herein may include data or opinion that has been obtained from, or is based on, sources believed to be reliable, but is not guaranteed as to the accuracy or completeness of the information. No part of this material may be reproduced in any form, or referred to in any other publication, without express written permission. Opus Asset Management Sdn Bhd and its employees accept no liability whatsoever with respect to the use of this material or its contents.